What is VMobile Softphone?
VoIP/SIP client tailor made for BlackBerry. Connects your IP telephony with your BlackBerry smartphone.
How it works?
VMobile Softphone delivers your land line VoIP / SIP calls to the BlackBerry device in your pocket. Works both with Wi-Fi and 3G.
Why it makes sense?
A BlackBerry app transforming your smartphone in a moneysaving tool. You can be abroad and get high quality Wi-Fi calls for much less money than roaming service will charge you. Now VMobile Softphone gives you access to multiple (2) accounts.
Does it fit my BlackBerry
Different versions for BB OS 5, 6 and 7. Check the full list of tested devices:
BlackBerry Curve 8900;
BlackBerry Curve 9300;
BlackBerry Curve 9320;
BlackBerry Curve 9360;
BlackBerry Bold 9700;
BlackBerry Bold 9780;
BlackBerry Bold 9790;
BlackBerry Bold 9930;
BlackBerry Torch 9800;
BlackBerry p9981 Porsche Design.
VMobile 1.0 VoIP/SIP Softphone offers you:
Compatibility with any SIP/VoIP server -

SIP RFC 3261;

Supports multiple SIP / VoIP accounts. Ability to switch between two SIP profiles.
Secured calls –

VPN friendly application;

Industry standard Voice quality -

PCMU/8000 audio codec support;

Integration with native Blackberry contact list -

make a call dialing directly from your BlackBerry device contact list;

Missed VMobile calls indicator –

visible on the BlackBerry home screen. Available only when the Softphone is active;

Option to choose from different phone numbers of a single contact -

home, office, cell, etc.;

Improved DTMF user experience -

touchtone for sending digits & letters. Improved on version 1.0.50, no ALT key is required to type digits;

Comfortable APN settings –

ability to manage them through the application;

Control over:

user name;
password;
domain name;
outbound proxy address.

Integration with BlackBerry call history and app`s own call history –

30 answered, 30 dialed, 30 missing calls;

Redial directly from the call history list;
Option to delete specific entry or all history;
Volume control with the standard BlackBerry buttons we all are used to;
Easy enable/disable background process with a single click;
Switch between loudspeaker and handset -

using space button;

Prefixes –

when configured, they will be added automatically to all numbers, regardless of their length;

Integration with BlackBerry sound profiles –

choose the ringtone you like from the device sound profiles;

Indicators for:

WiFi & 3G connectivity;
WiFi name;
SIP registration status;
missed VMobile calls;

One time fee, all updates are included;
Built-in PayPal payment option.
NOTE: 3G data charges may apply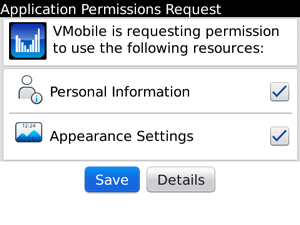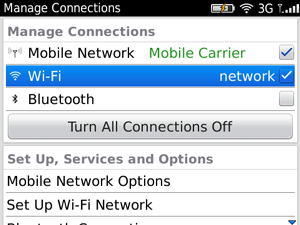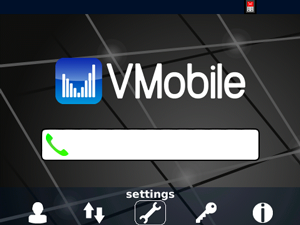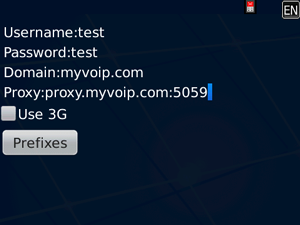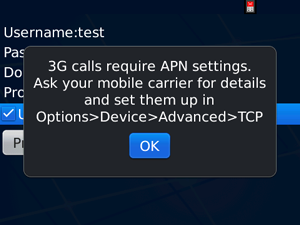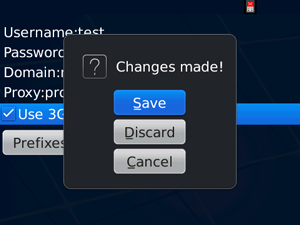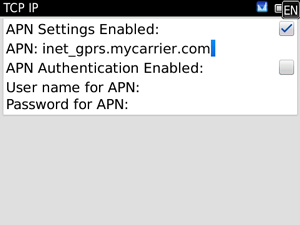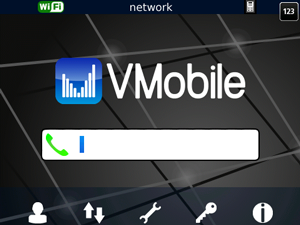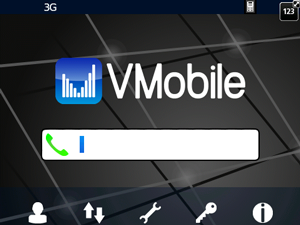 1. At initial installation VMobile Softphone app requires access to the smartphone recourses. Please confirm with Save button.
2. Connect the device to any Wi-Fi hotspot.
3. Start the VMobile Softphone app and go to Settings menu.
4. Insert the parameters of your VoIP/SIP vendor in Settings menu:
User name and Password;
Domain name;
Name or address of outbound proxy server;
5. If you intend to use 3G you need to enter APN parameters as specified by your mobile network provider in Options -> Device -> Advanced System Settings -> TCP/IP
7. Enter and save your APN settings
8. Make your calls via WiFi...
Doesn't register with my SIP account
Please check carefully your account credentials as user name and passwords.
Ask your SIP vendor for its proxy and domain name.
Check the communication port. It should be 5060
3G calls doesn't work
You have to configure APN settings as specified by your mobile network provider. Options / Device / Advanced System Settings / TCP IP
Successfully registered but can`t have a call
You`ll need some debugging. Hit the menu button on your BlackBerry and enable SIP log. Try again and send us the log file at Device > Home > User > vmobile.txt
How can I check my com port?
During the initial registration fill the Proxy field with your SIP server as: sip.mysipvendor.com:5060. The last four digits stand for com port which with VMobile Softphone should be 5060, as it is most common used one.
If at any time and for any reason, you do not feel that your purchase has lived up to your expectations simply request a refund. VMobile purchases are accepted for refund within 7 days of the original license purchase.
Please indicate your reason for returning the license you have purchased in your refund request sent trough e-mail to our support e-mail. The request must include the license key you have got after paying for the application.